I didn't want to sink $100-150 into saddle bags, so I took to craigslist looking. I found a pair in fair condition for $30 with the rain covers and the side secure straps. The bags are sun faded and one side has damage on the lower edge (from a minor wreck?) but overall they were are good for the price.
They don't look too bad on it, eh?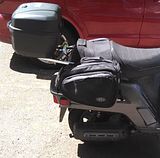 (Click it to enlarge)
For the rear sides, the loop straps reach the rack fine.
For the front sides that need to be secured, I will look into getting some of these and secure it to the screw behind the fold-down passenger foot rest. It's a screw that holds the side panel on, so it goes into the frame. It's a nice secure place for a mounting point.